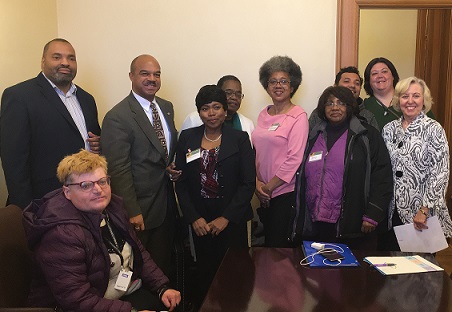 Nearly two dozen employees and consumers of Wyandot BHN traveled to the Kansas State Capitol this month to push for stronger mental health policies.
The trip is an annual tradition at Wyandot, which often has one of the best turnouts for the statewide event in Topeka. But this year that tradition included 9 teenage consumers of services at PACES, marking the largest number of youth to attend Advocacy Day on behalf of a Wyandot BHN organization.
 "We made a special effort this year to make sure our kids got a chance to raise their voices about the mental health issues that matter most to them," said PACES Executive Director, Clarice Podrebarac.  "Events like Advocacy Day not only provide them with a great civics lesson, but they let them know that their opinions matter, that they should—and can—have a say in the policies that will affect their lives."
The burgeoning advocates explained how mental health services at PACES had helped them and their families better cope with conditions such as depression. They connected their experiences to the need for increasing Medicaid rates for behavioral health care, which have been frozen at 2004 levels. One former PACES consumer, now employed, talked about how many young adults in the workplace lack insurance and how expanding Medicaid would give them access to mental health services.
Later, the PACES team got to share their experience with officials at the Kansas Department of Aging and Disability Services, which recently provided funding to PACES and other organizations to help facilitate advocacy and community engagement activities.
"I was so proud of how our kids spoke up, how passionate and articulate they were," said Grace Lamberton, a PACES manager who attended Advocacy Day. "It's not easy to speak so candidly about how a mental illness affects your life, especially when you're talking to adults in prominent positions. But we were warmly received by all the officials we met."
Meeting with Wyandotte County legislators was just one part of the day's agenda. Those who attended also had a chance to meet with other staff and consumers, as well as attend a rally where Governor Laura Kelly spoke about the importance of addressing the state's mental health needs.
One consumer-advocate, Donovan, is an Advocacy Day veteran who works at a consumer-run organization called S.I.D.E. in downtown Kansas City, Kansas. In an interview with a Topeka television station, he spoke about the need to de-stigmatize mental illness and approach it like any other health concern. "It's something that can be treated, and it's something that you can help with," he said.