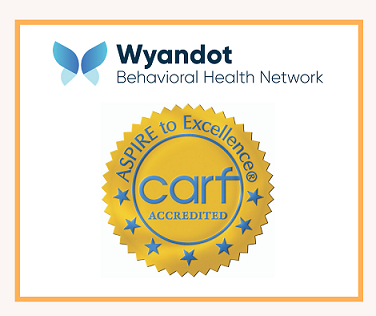 Earlier this month, we learned that Wyandot Behavioral Health Network has received accreditation from an international organization that sets standards for mental health and other rehabilitation services. Known as CARF (Commission on Accreditation of Rehabilitation Facilities), the organization recently conducted an in-depth, on-site survey of our services that included a review of our policies and interviews with staff, clients, and our leadership team. After that survey, CARF awarded 3-year accreditation for our adult and children's case management services, adult and children's outpatient treatment, and our crisis stabilization services. 
"This is a significant milestone for our organization," said Randy Callstrom, Wyandot BHN President and CEO. "It lets the people we serve, and the public at large, know that we are committed to providing high quality  behavioral health care and treatment. It also underscores that we have implemented policies and practices that ensure continuous evaluation and improvement of the care and treatment we provide." 
In its letter notifying us of the accreditation, CARF said that "this achievement is an indication of your organization's dedication and commitment to improving the quality of the lives of the persons served. Services, personnel, and documentation clearly indicate an established pattern of conformance to standards."
Accreditation, as CARF notes, is an ongoing process that encourages organizations to continuously strive for excellence. We welcome that opportunity as we aim to provide Wyandotte County with the best behavioral health services possible. 
A special thank you to REACH Healthcare Foundation and Health Forward Foundation for helping Wyandot BHN achieve the gold standard in behavioral health. 
Visit the CARF website to learn more about accreditation.